Tipi Hire Information
Tipis, Teepees, Tepees, Wigwams, Sami Katas – call them what you will!
Our tipis are based on traditional designs but we are very proud to say that they are made right here in the UK. The poles are slow grown (over 80 years old!) which make them really strong and the canvas is a blend of cotton and synthetic fibres which are fully waterproofed yet breathable. Everything is kite marked and meets all British Standards requirements.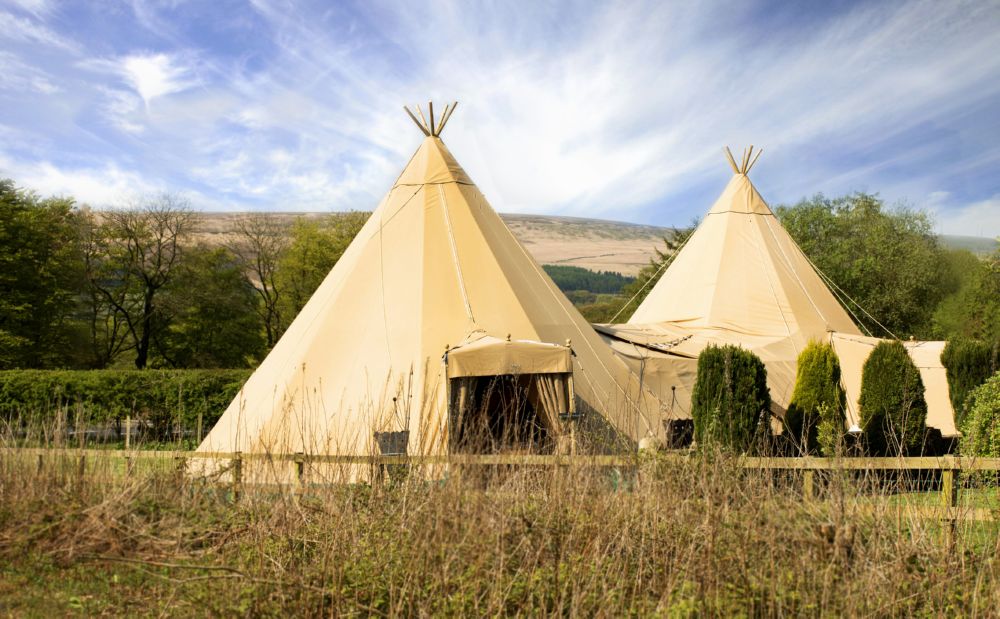 A tipi is distinguished from other conical tents by the smoke flaps at the top of the structure. Traditionally used by the indigenous people of the plains and prairies of North America they were originally made from wooden poles and animal skins. We still use wooden poles but the skins have been replaced by fully weatherproof, treated canvas.
Tipis are incredibly durable providing warmth in winter yet cool in the heat of summer.
Modern event tipis are amazingly versatile – a single tipi measures just over 10m in diameter but when the sides are up in a "witches hat" style measure 13m. They can be linked together in various formations to create as big an area as you may need.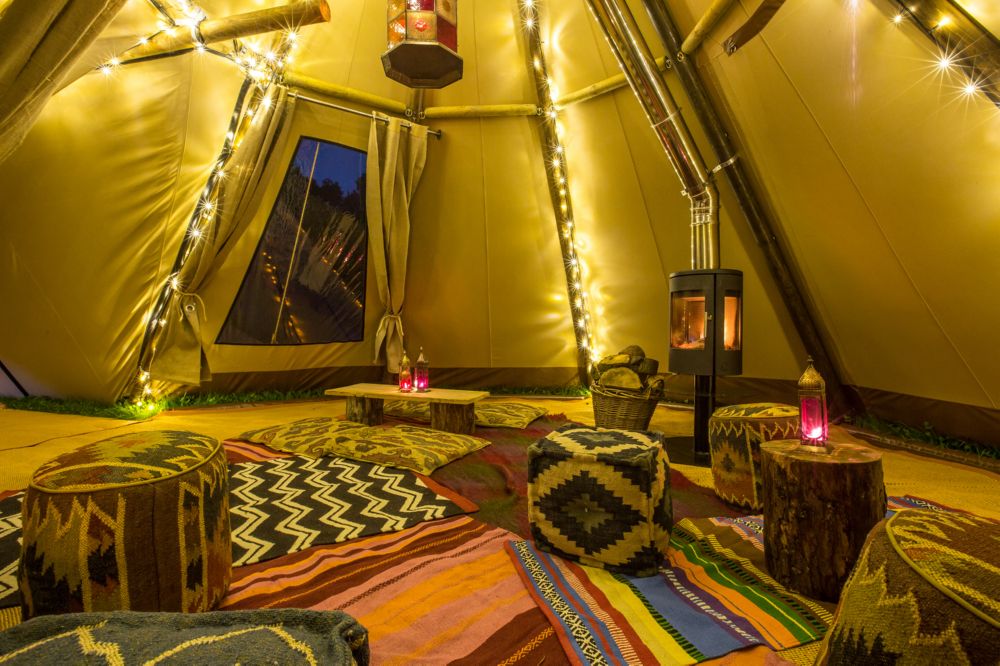 Interiors:
Tipis look great either with rustic style tables and benches or chandeliers, mirror balls and contemporary furnishings.
Our rustic tables and benches comfortably sit 8 and their beautiful natural wood finish eliminates the need for table cloths. If you want round tables then tables of either 8 or 10 work really well and we have a choice of chairs available.
Lighting packages of fairy lights and uplighters look fantastic and we also have some stunning contemporary chandeliers. A large mirror ball over the dance floor always adds a magical effect.
Log burning fires will make your tipi feel cozy and snug and your guests will love to sit round them into the early hours.
Chill out furniture, oak barrel bars, large sofas can all be added. There are loads of extras and finishing touches available which we would be happy to discuss with you.
Heating:
Our log fires look and feel fantastic and give off lots of heat but if its really cold we would recommend one of our thermostat controlled warm air heaters. For winter events we can also install porches with solid wooden doors to keep it really toasty.
Sleepy Tipis:
We have a range of smaller tipis that are perfect for overnight guests. Remove the worry of having to book hotels and taxis or somene having to drive and create a Glamping village. Available in 2,4,6 and 10 person size our basic package includes good quality camping mattresses and battery powered lanterns – all guests need to bring is a pillow and sleeping bag (and maybe some PJs!)
Its great to wake up and chat about the previous days events and makes a real focal point. You can also book lots of extras such as mattress upgrade and bedding, bunting, fairy lights and fire pits.